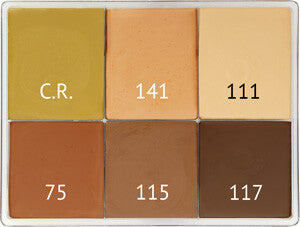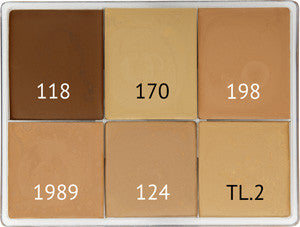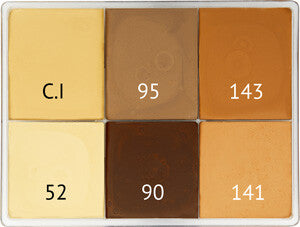 Palette of 6 concealers/foundations
The "Fards crème" (Cream Makeup)
These cream foundations from MAQPRO have been the star of the brand for several decades. They have all the necessary qualities to be loved by professionals and ordinary consumers:
- More than 300 colors available
- They can be easily mixed alone or with the help of the MIXER
- They can be diluted with the MIXER for little coverage or even used as concealers when applied more compactly
- Durable between 12 and 15 hours
- They are not harmful to the skin as they are formulated with a beeswax derivative to hydrate and protect the skin from aggressive external elements.
- Thanks to their mineral pigments, the skin is very luminous as they are light reflectors and not light absorbers like many foundations on the market.
- Minimum 30% pigment
- Can be used for a variety of functions such as foundation, concealer, blush, bronzer, contour, shadows and even lipstick
- It is not perishable when cold or hot and therefore can be used and stored for a long time without losing its properties.